Donald Glover Campbell
Patron of the Asian Seniors Tour
Memorial Service in Singapore
SICC - Singapore
April 21, 2014


Donald Glover Campbell
Patron of the Asian Seniors Tour
Memorial Service in Singapore

(1930 – 2014)

Memorial in Singapore on Monday 21st April 2014

We are gathered to wish Donald well and to see him off to be reunited with mother the love of his life Choo / mother, whether she's ready or not !!!

He leaves behind his loved ones.

Children –
- Duncan Campbell
- Jean Wale nee Campbell
- Hamish Campbell (deceased)
- Chuan Campbell
- Helene Campbell

Grandchildren – Adam, Amy, Bianca, Isabella, Laura, and Tommy

Great Granddaughter – Rhiannon and last but not least – MAC the dog


Eulogy to Donald Campbell from Kevin Parnell delivered by Tony Parnell

I met Chuan Campbell not long after my arrival in Singapore in 1979, a short time later I was introduced to his dad Don Campbell.

I took an instant shine to this gruff old bugger. It is with much regret that I cannot attend the service today to honor this man to whom I had a huge affection and respect for.

Don and his wife Choo Campbell adopted me and treated me as another son.

Don was a successful businessman who taught us all a lot about business and life in general, and was one of the finest Golfers I have ever seen in my life, he loved golf and all the ceremony surrounding it. He was skilled at the game and I believe that he could have been a world class golfer had he put his mind to it.

Don would walk around the golf course with Chuan and I carrying only 3 clubs and he would play par golf, meanwhile I would hack away and constantly ask his advice. After asking him once what I could do to improve my game he suggested that I give it up or take up a career as a caddy as my golf game had not improved despite many years of trying and much advice from Don.

However he never gave up on me and was always ready to give me praise for even the most basic of shots. I miss these fabulous fun days with him so much

We played many fantastic courses in Malaysia together, he loved and taught Chuan and I to appreciate what he termed "cool courses". These were the old original British courses built in small Malaysian towns, cut out of virgin jungle, using cow grass and keeping as much of the natural jungle as possible. These were days and times that I will never forget.

Over the years I learnt to respect this man more and more. Don had an incredibly interesting life which he lived to the fullest. In many ways he was also a father to me.

Don was extremely tolerant of the antics Chuan and I got up to. He had a great sense of humor, and he needed this I assure you. I think most of his grey hair was due to us.

Don was a man I will always remember and respect. I am deeply saddened at his passing. Rest peacefully my friend. Kevin Parnell

Message from daughter Jean Wale nee Campbell and grandson Adam Wale

To dearest Dad and Grandpa,
Remembering all the great times we had at Stenhouse with you especially when we were all together. Love and miss you always.
Love Jean, Jeff, Amy and Adam.

I wish I could be there with you on Monday to celebrate Grandpa's life but I can be glad that I saw him when I did – Adam Wale


Donald Campbell – some classic moments !!

Very early one morning – Honey I'm home … REALLY!! … followed by mother's flying ashtray which resulted in Don having to go for medical treatment, as when he ducked the missile missed, however he fell over and smashed a vase, cutting himself… this must be taken in with the knowledge that father had been missing for most of the night, as he had earlier that evening returned home via the saddle club, parked safely in the front of the house, got out and fallen into a storm drain, promptly knocking himself out for a few hours …

When watching some of the senior professionals participating in my golf tournaments at the 1st T Box – you're not really very good at this are you …?

Buying a brand new car with his credit card on the spot because he had annoyed mother so badly one afternoon while out shopping in Edinburgh that she went to get the car while he waited with the groceries and then just left him about 70 miles from home… to add insult to injury, the car was a lemon and mother never allowed him to sell it…

Do you have a driver's license? NO but my expired one is older than you are !!

Father's response when asked by US immigration as to the purpose of his visit to the USA / San Francisco to visit Helene – she made me… pointing to mum

During a huge storm Donald got soaked walking the grounds of their newly purchased estate, so he stopped at the nearest cottage for shelter and having been let in proceeded to strip down to his underpants and hang his clothes to dry in front of their fire… then turning to the rather shocked tenant asked for a cup of tea and if they could kindly call mother to come and get him..

At his 80th birthday party – I am pretty sure that not all of you are my children ….


In remembrance of Donald Campbell

Donald or Don as he liked to be called, lived a full and interesting life, starting with him being the first cesarean birth in South West Scotland, the name Donald Glover was a tribute to the doctors who delivered him.

He did his apprenticeship under Frank Whittle, working along side his father, helping to build the Gloster Meteor Britain's and the Allies first fighter jet, and he later saw service during the 2nd World War ending up in Egypt.

Don came across to Malaya with the Palestine Police who served during the Malaya Emergency, and later worked as a Tin Miner in Ipoh, and later as an Engineering Lecturer at the Polytechnic in Singapore where he met mother.

Having been married with children, this certainly didn't make him Grandfather's idea of a suitable husband for our mother, and so when a financial proposition could not persuade him from being with mother sterner measures were taken … which resulted in Mother and Father eloping to Nigeria where he worked for the UN, while mother taught.
A few years later I was conceived in Nigeria and our parents moved to the UK where I was born and where they were joined by Grandmother who refused to leave until I had a Chinese name, hence Chuan and my sister Helene who was named after our Grandmother.

Don continued to work for the UN in the UK for a few years and in 1969 we moved to Taiwan along with Duncan, our eldest brother and baby Helene, where Don continued to work for the UN, while mother taught at the American School.

We moved to Singapore in the early 1970's where they remained until retiring to Scotland in 1990 where they both greatly enjoyed working at restoring Stenhouse and the estate, mother busy in her walled garden and father busy mowing down everything in sight to build his golf course – hence the nickname the mad mower of Moniave !!

They both loved their time at Stenhouse, playing Uncle Donald has a farm, every animal was a pet, horses, sheep, peacocks', chickens, and all understood the word Makan, and whilst mother was loved and accepted by everyone, Don for the most part began to remember why he had left the UK in the first place…..

During this time they would travel regularly between Scotland and Singapore, accompanied by their dogs Suggs & Gus and later MAC who probably has more air miles than most people here !!



Results (click on images for enlargement)




Group Photos from
Donald Glover Campbell
Patron of the Asian Seniors Tour
Memorial Service in Singapore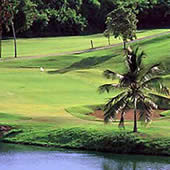 a full photo review of the day is available here.